Zhoushan Ningshing Ship Building Successfully Delivers China Aid Base Shipbuilding Order
2022-11-23
On October 29, a tugboat and a non-powered cargo barge built by Zhoushan Ningshing Ship for the Chinese government's aid to Kiribati were successfully delivered. Undertaking the national aid project for the first time, all the staff of Zhoushan Ningshing Ship attached great importance to it, grasped the production organization closely, implemented precise control of shipbuilding, and completed the construction of the two ships with quality and efficiency at a speed 5 months ahead of the original plan. In order to ensure the smooth and safe arrival of the two ships in Kiribati, Zhoushan Ningshing Ship made every effort to coordinate and strive for the full cooperation and support of many departments, such as customs, letter, border inspection and port and navigation, to realize the heavy load shipment of large pieces in Daishan County, opening up the precedent of the whole ship loading and shipment for other ship enterprises in the county.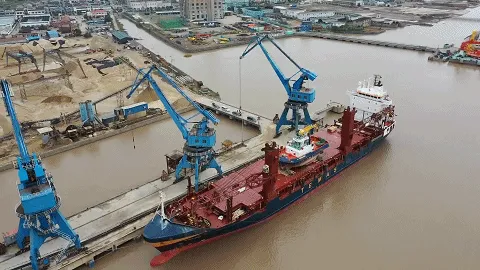 Mr. Tang Songgen, Chinese Ambassador to Kiribati, said that this is an important assistance project after the resumption of diplomatic relations between China and Kiribati. He highly praised the responsibility of Zhoushan Ningshing Shipbuilding in undertaking the aid project, highly affirmed the construction of two ships with high quality and high efficiency by overcoming the epidemic and fighting the high temperature, and highly commended the positive role played in enhancing the friendly relations between the two countries. The assistance project not only shows the image and brand of Chinese shipbuilding enterprises, but also lays a solid foundation for Zhoushan Ningshing ship brand to go to sea. Zhoushan Daily made a front-page report on it.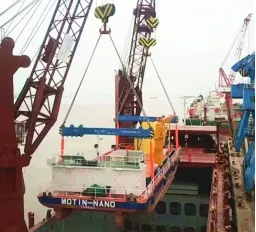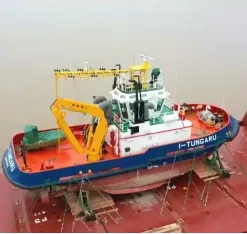 With its professional technology and excellent service, Zhoushan Ningshing Ship has won wide praise from ship owners. Up to now, Zhoushan Ningshing Ship has completed the construction of 19 ships, including ultra-low temperature refrigerated vessels, oil tankers, chemical tankers, tugboats, etc., with a total output value of about 980 million yuan. Among them, the 9000m³ rake suction dredger "Fenghai Joon 16", which was successfully launched in May this year, is the vessel type with the largest construction tonnage, the highest technical difficulty and the best self-developed performance so far. Zhoushan Ningshing Shipbuilding will continue to adhere to the business philosophy of "quality first, technology leading, safety standard, cooperation", further improve the ability of precise control shipbuilding, and make every effort to build a special shipbuilding base with leading technology of "small specialization and precision".