KIND&CO and Ningshing Die Steel Promotion and Technology Seminar 2016
2016-03-18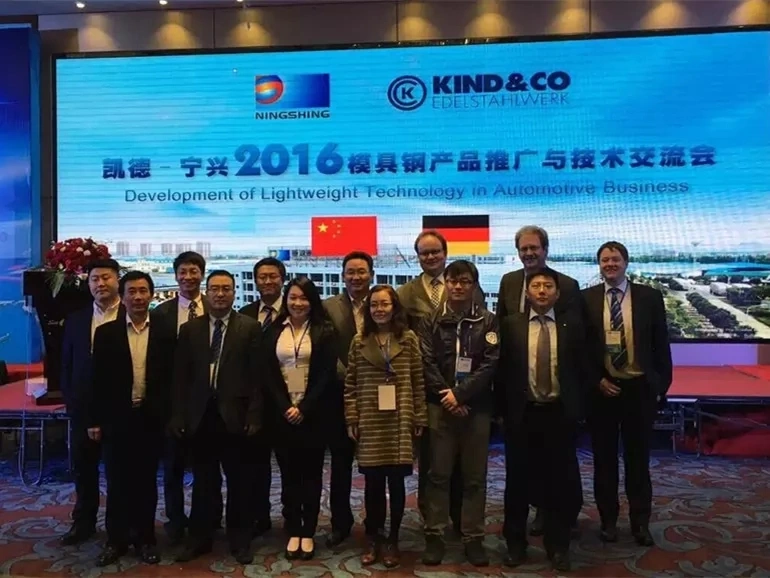 KIND&CO and Ningshing Die Steel Promotion and Technology Seminar 2016

"KIND&CO and Ningshing Die Steel Promotion and Technology Seminar 2016" which was hosted by Ningshing, was held in Ningbo Yuanzhou Hotel on March 17th, 2016.

Over 100 persons attend the seminar and exchange ideas about die steel's promotion and technical application. Participants include

KIND&CO
Eight persons include CEO Dr.Martin Löwendick and chief engineers.

NINGSHING SPECIAL-STEEL
President Huang Yongzeng, GM Wang Wentong, all engineers and salesmen.

CHINA IRON & STEEL RESEARCH INSTITUTE GROUP (CISRI)
Dr.Chen Xichun

FAW-FOUNDRY
Dr.Fang Jianru

DONGBEI SPECIAL-STEEL GROUP
Principal Engineer Dr.Kang Aijun

DONGGUAN GOODA Machinery Manufacturing
GM Huang Pengfei

GM Wang Wentong gave the opening address that briefly introduces Ningshing Special-Steel's brand, sales work and main business line. He emphasizes on innovation development direction. By strategic cooperation of "Production-Selling", "Research-Selling" and "Distributors" and professional technical selling operation, Ningshing Special-Steel become the top One-Stop-Solution of technology management in Chinese die steel industry. Achieve the goal of co-create, win-win and sharing with our suppliers, customers and distributors.

Mr.Yan Jianbin (Vice GM of Ningshing), Dr.Ingolf Schruff (Chief engineer of KIND&CO), Dr. Martin Löwendick (CEO of KIND&CO) respectively gave the introduction of market situation, prospects of new technology as well as the overview of KIND&CO. After that, it goes to the key part of the seminar. Dr.Ingolf Schruff and Ms.Wang Duan (manager of technical dept. of KIND&CO) gave the introduction and shared technology of "Automotive Lightweight", "Hot Stamping", "Aluminum Forging", "Heat Treatment" and "Die Preparation of Heat Treatment". Additionally, delegates also discussed the technical problems which they had.

Ningshing Special-Steel held a banquet after seminar. President Huang Yongzeng toasted and announced the seminar successfully finished.