Announcement of first batch of high-tech enterprises in Ningbo in 2021
2021-12-13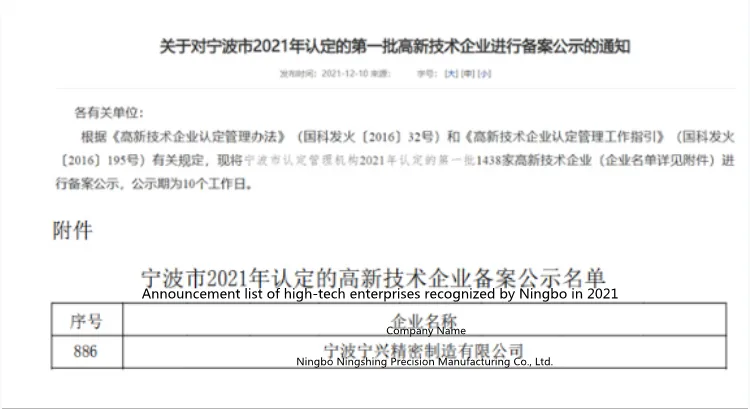 Ningbo Ningshing Precision Manufacturing Co., Ltd. is a subsidiary of Ningbo Ningshing Precision Machinery Group Co., Ltd., specializing in the manufacture of mold bases, P-plate and metal product processing. Ningshing Precision Manufacturing promotes electronic intelligence development, and introduces more than 100 imported and domestic CNC processing equipment, automatic high-precision production equipment and intelligent production line transformation, applying ERP, MES system and lloT. Ningshing Precision Manufacturing forms a supply ecosystem with upstream production steel mills, downstream customers and industry partner, and continuously optimizes resource allocation to provide customers with one-stop service.


Innovation is the fundamental driving force for enterprises. High-tech enterprises believe that policies can guide enterprises to adjust their industrial structure and take the development patch of independent innovation, improve their scientific and technological innovation capabilities, improve service levels, and ultimately promote the high-quality development of high tech enterprises.


Ningshing Precision Manufacturing is included in the first batch of high-tech enterprises, which is the government's recognition of the company's scientific and technological R&D management level, core competitiveness, value and brand, and it is of great significance to Ningshing Precision Manufacturing to expand domestic and foreign markets.