Ningbo Ningshing Tank Terminal Co.Ltd Shiny Finalist | The Awarding Ceremony of 3rd Batch of Zhejiang Key Import Platform
2022-11-18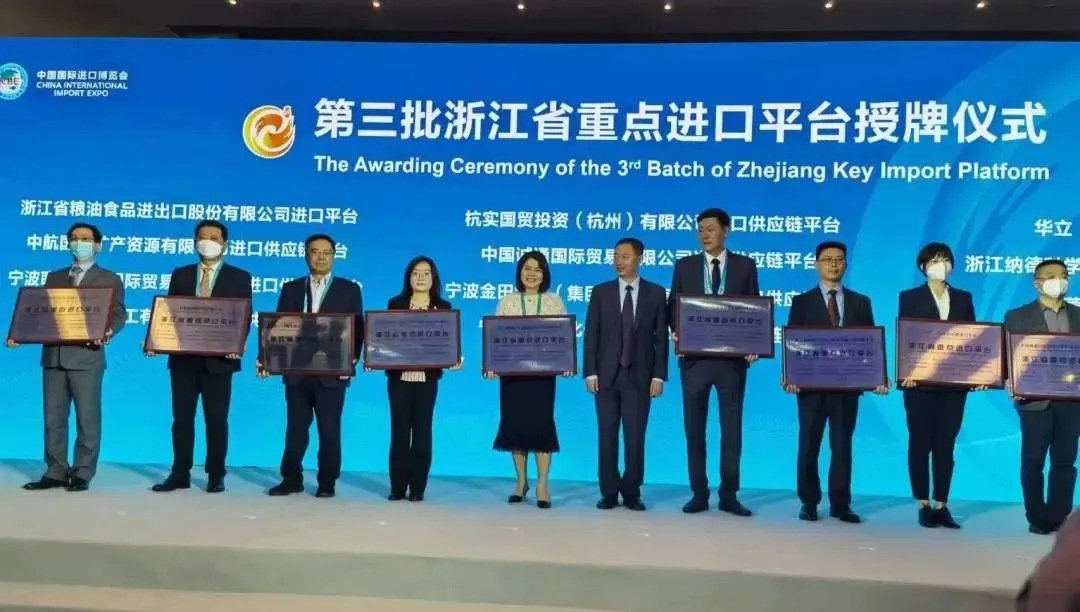 On November 6, the supporting activities of the 5th China International Import Expo - Zhejiang Provincial Key Import Platform Promotion Conference and Zhejiang Provincial Trading Group Import Procurement Centralized Signing Ceremony were held in Shanghai. Chen Zhicheng, deputy director of the Provincial Department of Commerce, attended the event and delivered a speech. At the event, 24 companies newly selected as "the third batch of key import platforms in Zhejiang Province" were awarded. Four companies from Ningbo were shortlisted, and Ningshing Tank Terminal Co.Ltd was on the list. Wu Bing, general manager of Ningshing Tank Terminal Co.Ltd, attended the event and took the stage to receive the license.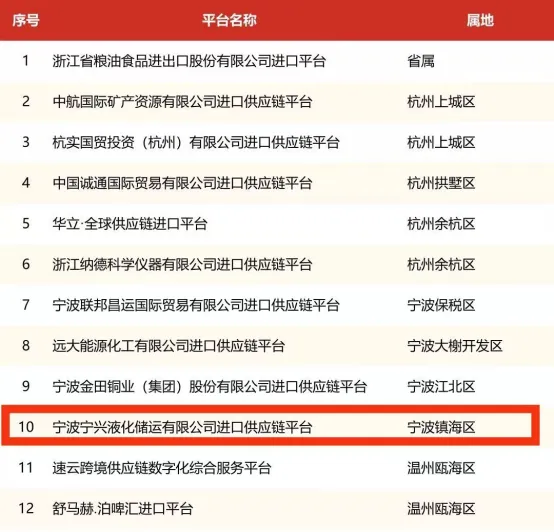 The selection of "Key Import Platforms in Zhejiang Province" aims to cultivate a group of platforms that have demonstration, radiation and driving effects on the province's imported commodities and the construction of "world supermarkets", and promote the sustainable development of Zhejiang's foreign trade by expanding imports. The selection is a high recognition and encouragement for Ningshing Tank Terminal Co.Ltd to actively promote the construction of the import supply chain platform. Over the years, Ningshing Tank Terminal Co.Ltd has given full play to its professional advantages, actively expanded and expanded the import supply chain platform field, strengthened cooperation with various polyester factories and traders, and continued to increase the flow of goods in transit; attached importance to the construction of "Internet +", and actively created the wisdom of in-depth perception The warehousing system realizes the effective connection between the warehousing management system and the information systems of traders, manufacturing industries and end customers, accurately grasps the supply and demand information, and improves the efficiency of cargo dispatching; builds a strong security line at all times, and establishes a distinctive "five-in-one" security management The structure model highlights its advantages in safety risk identification management and on-site hidden danger investigation, achieves "zero accidents" in safety production, and establishes a good brand in the industry.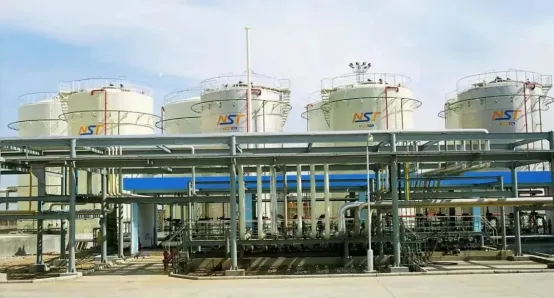 Ningshing Tank Terminal Co.Ltd:

Engaged in the Tank Terminal business (bonded) of liquid chemicals for over twenty years, Ningbo Ningshing Tank Terminal Co., Ltd., a joint-venture company, has built and operates storage tanks in Zhenhai port of Ningbo. The total storage capacity is over 26 thousand cubic meters with 13 bonded tanks in the terminal, which can accommodate the loading and unloading of 50,000-ton liquefied ships. Ningshing provides professional logistic service including international transit, bonded warehousing, bonded barreling and bonded transport service. By virtues of advanced e-commerce platform and a solid & reliable safety management, Ningshing enjoys good reputation in tank terminal business. It becomes the first designated delivery warehouse for ethylene glycol futures in Zhejiang Province and has established strong business relationships with renowned international petrochemical companies such as SABIC, Shell, Sinochem as well as large platforms like Dalian Commodity Exchange. It is one of the Top 100 Competitive Enterprises in Ningbo City and was awarded the honorary title of Five Model Team (Pioneer Team of Municipal Workers) by Ningbo General Trade Union.