Ningshing Holdings and Six of Its Subsidiaries Were Selected into "Top 100 Ningbo Enterprises in 2022" List
2022-09-02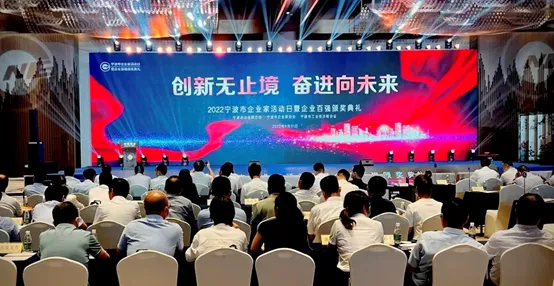 On the afternoon of August 31st, Ningbo Enterprise Association, Ningbo Entrepreneurs Association, and Ningbo Industrial Economics Association (hereinafter referred to as the "Three Associations") held the "Ningbo Entrepreneur Activity Day and Top 100 Enterprise Award Ceremony in 2022" with the theme of "Innovating Endlessly, Forging ahead to the Future" at Ningbo Nanyuan Hotel. 


Tang Feifan, Deputy Secretary of Ningbo Municipal Party Committee and Mayor, attended the meeting and delivered a speech. He paid tribute to the contributions made by the vast number of enterprises; he said that enterprises were the main body of the market economy, an important force for social development, and the foundation of the construction of Ningbo modern coastal metropolis. He hoped that the majority of Ningbo entrepreneurs would grasp the general trend of development, boost their confidence, strive hard, and grow and prosper together with Ningbo. Huang Yongzeng, vice chairman of "Three Associations" and president of Ningshing Holdings, and representatives of relevant award-winning companies attended the meeting.


Ningshing Holdings was selected as the "Top 100 Ningbo Comprehensive Enterprises in 2022". Ningshing Trading Group, Ningshing Precision Machinery Group, Ningshing Ubay, Ningshing Kinhil, Ningshing Hench, and Ningshing Haixin were selected as the " Top 100 Ningbo Service Enterprises in 2022"; Ningshing Precision Machinery Group was also selected as " Top 100 Ningbo Competitive Enterprises in 2022". Yan Jianbin, general manager of Ningshing Precision Machinery Group, won the honorary title of "The 21st Ningbo Outstanding Entrepreneurs".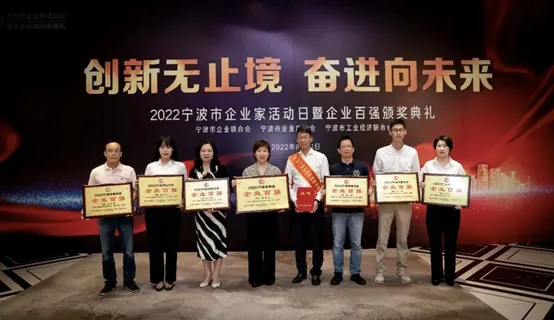 2022 is the 17th consecutive year that Ningshing Holdings has been selected as one of the Top 100 Ningbo Comprehensive Enterprises, which is a recognition of the achievements made by Ningshing Holdings in innovation and development over the years. In the face of the epidemic and the severe economic situation, the company has been united together to seize opportunities, innovate and make every effort to improve the scale and efficiency of operations, and further enhance industry status and competitive advantages. The operating segments of Ningshing Holdings will continue to base on their own advantages, maintain determination, innovation and pioneering, and contribute to the high-quality development of Ningshing Holdings.