2021 Zhejiang Enterprise Management Modernization Innovation Achievements
2021-11-26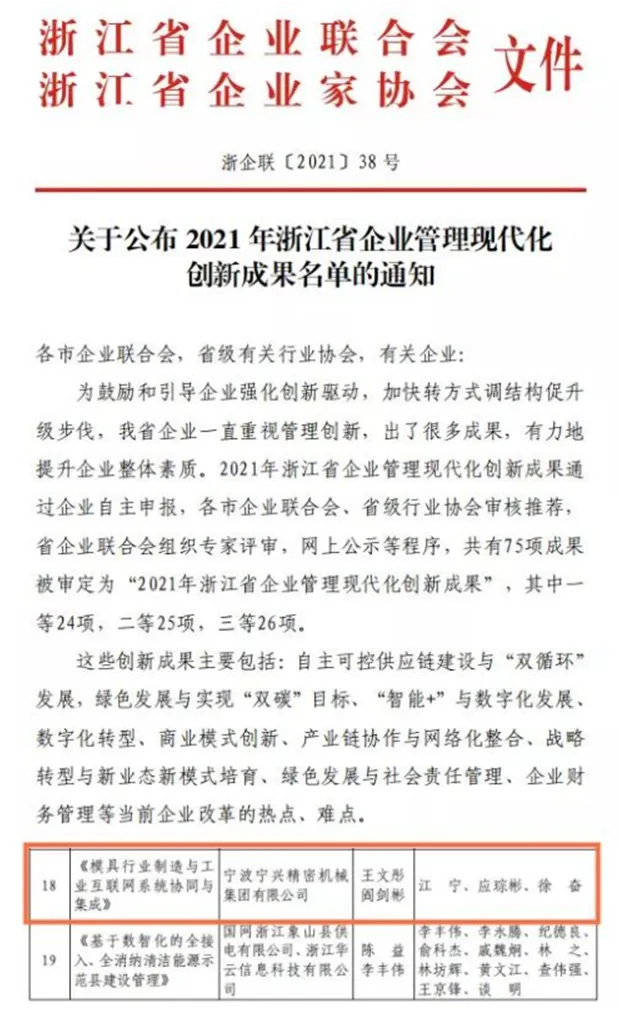 Ningshing Precision Machinery Group won the second prize of "2021 Zhejiang Enterprise Management Modernization Innovation Achievements"


Recently, the Provincial Enterprise Federation and the Provincial Enterprise Association jointly announced the award-winning list of Zhejiang Enterprise Management Modernization Innovation Achievements in 2021, Ningshing Precision Machinery Group's "Mold Industry Manufactory and Industrial Internet System Collaboration and Integration" won the second prize. The establishment of the award aims to encourage and guide enterprises to strengthen innovation drive, accelerate the pace of transformation and structural adjustment to promote upgrading, continuously improve the overall quality of the enterprise, and set a benchmark for the province's enterprise management innovation.


Over the years, Ningshing Precision Machinery Group has been actively extending the industry chain, taking "information digitalization, refinement, and intelligence" as the development direction, vigorously expanding the core business of intelligent precision manufacturing, actively promoting the construction of "intelligence+" and digitalization, and introducing new Automated high-precision production equipment and transformation of intelligent production lines. Apply MES system and Industrial Internet of Things to ERP management of production materials, and coordinate management of workshop manufacturing execution system (MES), Industrial Internet of Things and enterprise resource planning (ERP) systems to create a data collection and process database platform.


Informatization and digital construction will improve the production, quality, logistics, and data of Ningshing Precision Machinery Group, improve production performance, build core competitiveness, and lay a solid foundation for the development plan and upgrade plan of the Precision Machinery Group.