Half-year business working meeting of 2019 was held
2019-07-29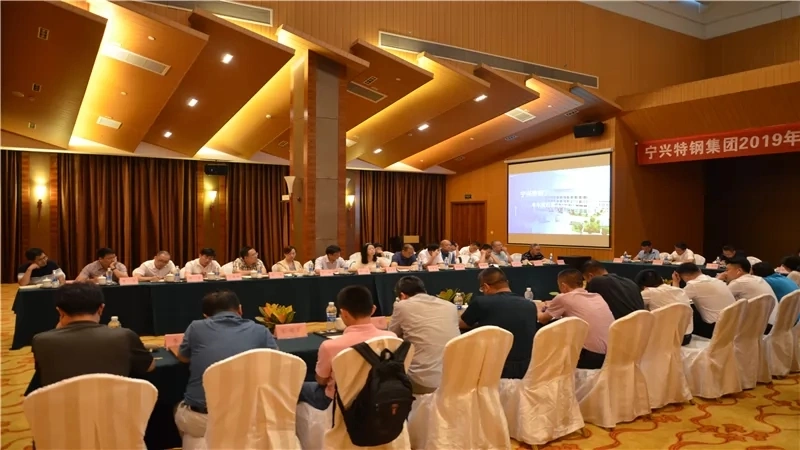 On the afternoon of July 20, 2019, Ningshing Special-Steel Group's 2019 half-yearly operating meeting was held at Qianhu Yuezhuang Hotel. More than 50 people from the group management team members join the meeting. That include members of the subsidiary team, financial leaders, and members of the group's functional departments participated. The head of the president's office of Ningshing Holdings and the heads of relevant departments attended the meeting.
The meeting was chaired by Jiang Ning Secretary. First of all, the participating companies and departments exchanged reports on the first half of the operation and completion of the work, asked questions, identified gaps, and proposed the second half of the business plan and key work. Shen Qiongfang, general manager of the financial audit department from the financial point of view, the company's overall operations in the first half of the analysis and summary. General manager Yan Jianbin reported on the overall operation of the group in the first half and the completion of key work, arranged for the deployment of the second half of the work and plans, and put forward specific requirements for each company, departmental key projects, and the continuous advancement of important work. Chairman Wang Wentong made a speech entitled "Do not forget the initial heart, remember the mission, look for gaps, and pay close attention to implementation", affirming the achievements of the entire special steel Group in the first half of 2019 in all aspects of overall management, internal management, and corporate culture construction. It points out the gaps in the completion of business indicators and the Advancement of key projects, and puts forward specific requirements for the work in the second half of the year. At the same time, it requires companies and departments to take ownership of the work and have a high degree of responsibility.
At the end of the meeting, President Huang Yongzeng of Ningshing Holdings made an important speech. All companies and departments of the Special-Steel Group are required to be brave enough to innovate, dare to change, seek change in innovation and win in difficulties under the current economic environment and in light of their own actual conditions, in line with the characteristics of the industry and the strategic objectives of the Group's business operations. Through seeking "change", find the idea, break through the predicament, achieve the ultimate strategic goal of the enterprise.